Travel

Canberra is the capital of Australia and is served by a domestic airport with flights to and from all state capital cities, including Sydney (~30mins (jet) - 1 hr (turbo-prop)) and Melbourne (1 hr). Canberra is about 3.5 hrs by road from Sydney and 9 hrs by road from Melbourne. Participants will be able to easily travel to the Texas Symposium in Melbourne following the meeting.
---
Accommodation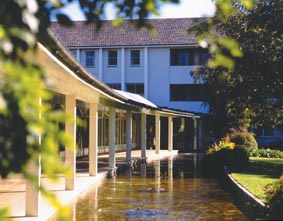 University House

A block booking of 40 rooms has been made at University House on the ANU campus.
If you would like to make a reservation the rate is $A122 per night including a full breakfast. Please make reservations directly with University House. Contact details are email: accommodation.unihouse@anu.edu.au telephone: +61 2 6125 5276 fax: +61 2 6125 5252.
Please quote the 5th Stromlo Symposium in your correspondence with University House.
Transport from University House to Mt Stromlo will be arranged.

Waldorf Apartments

Rooms have also been booked at the Waldorf Apartments
Location: Right in the Heart of Canberra City, 2 Akuna Street, Canberra.
Availability
2 Suites @ $138/night
10 one-bedroom apartments @ $149/night
8 one-bedroom + office apartments @ $149/night
These are the weekly accommodation reduced service rates (no linen changes).

Check-in: Saturday 2 December
Check-out: Saturday 9 December

To book a room, phone +61 2 6229 1234 and quote "5th Stromlo Symposium"
Bookings must be made by Wednesday 1 November at the latest.


Saville Park Suites


Standard hotel type accommodation has been booked at Saville Park Suites

Location: 84 Northbourne Avenue (5 mins walk from City Center)


Availability
20 hotel rooms @ $145/night

Check-in: Saturday 2 December
Check-out: Saturday 9 December

To book a room, phone +61 2 6243 2500 and quote "Stromlo Symposium" Bookings must be made by Wednesday 1 November at the latest.

Student college rooms

A number of student college rooms have been reserved at Ursula Hall on the ANU campus. The cost is $A 62.50 for bed and breakfast. Please book via email to one of our students Leith Godfrey

Other options


Other accommodation options in Canberra may be obtained from: Total Travel - Canberra

Accommodation problems


If there are any problems with organizing accommodation please email Leith Godfrey